Can I afford to buy a car?
Landing your first job is exciting. The years of waking up early, slogging it through lectures, and chasing assignment deadlines have finally paid off.  You're now ready to step your game up, and show everybody the stuff that you're made of. Part of being awesome at your job includes showing up on time. To your colleagues and your employer, showing up on time is a gauge on your ability to manage time efficiently. This is where (if you haven't already), figure out how you get to work. If you've found work in the Klang Valley, you might be able to find public transportation to get to work. Many others will have to figure out how to travel back and forth to work. If this is you, perhaps you've thought about buying yourself a car.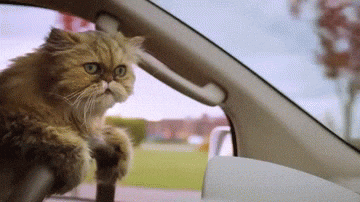 According to a survey by Jobstreet, fresh grads can expect to earn a starting salary ranging  from RM1,800 to RM2,600. It'll of course depend on which industry you're working in (read the 2018 report here), so I'm going to use the middle point of RM2,200 as reference to my calculations. Okay, now, with a starting salary of RM2,200, using a nifty deductions calculator here, we can expect to take home RM1,945.25 a month. According to certain guides, the prescribed level of non-mortage debt service ratio is 15%. This means that, all your existing loan commitments, less repayments to your housing loan, shouldn't exceed 15%. In our case, if we took home RM1,945.25 a month, our total non-housing loan commitments shouldn't exceed RM292.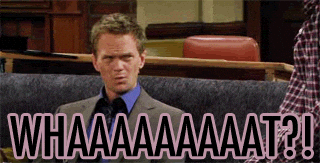 I know right? Seems a little bit of a stretch. What could we possibly buy that will only cost us just under RM300 a month?
Doing it in reverse
Well, let's work backwards. The formula calculating your car loan installment is as below:
Installment = (Loan amount + (Loan amount × Interest Rate × Number of Years)) ÷ (Number of Years × 12 Months)
I'm going to round up our monthly installment to RM300, assume that our interest rate is 3.65% per annum, and that we take up the full 9 year loan for a car. To find the loan amount, we rearrange the equation like so:
Loan amount = (Installment × (Number of years × 12 Months)) ÷ (1 + (Interest Rate × Number of Years))
Plug the numbers in, and for RM300 a month, we can get a loan amount of RM24,388.41. Neato! For that kind of price range,  we can comfortably buy a Perodua Axia…manual transmission. If driving a stick is not for you, consider buying a used car with automatic transmission.
I don't know about you, but when it comes to buying used cars, I always think of Matilda's dad, the sleazy old used car salesman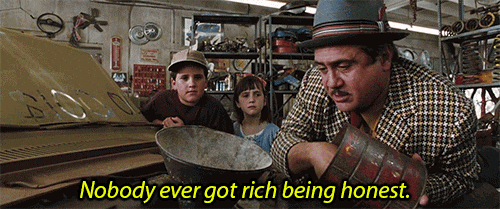 But lucky for us, living in the 21st century means we can find car dealers that have been reviewed by other buyers, giving us that extra bit of comfort that we're not being taken for a ride. The interest rates for buying a used car will be slightly different, but for RM300 a month, you'd still be able to get a loan of up to RM23,000. I did a quick search for used cars on www.carlist.my, and found some good deals on some pretty good cars. Who knows, maybe it's worth having a look.
Get what you can comfortably afford
Buying a car is a lot more than paying for monthly installments. There are other costs that are less frequently occurring, but can still put you in quite a pickle, if you haven't budgeted for them earlier. These costs include, periodical maintenance, road tax and insurance.  Factoring all these in, ideally, you should budget a bit more on top of your installment every month.
Why?
Well, a quick check online for a quotation for insurance on a vehicle valued at RM23,000 will set you back about RM850 a year. Road tax for a MyVi is RM70, and getting your car serviced every six months could come up to as much as RM300 (maybe more if the service is major) each time. If I add it all up, it comes up to RM1,220, or just a little over RM120 a month. To be a little more prudent, you could set aside about RM150 extra out of your budget, to complement your car installment. This way, when that service, or insurance renewal is due, you'd have saved up some money and won't strain your budget unnecessarily.
Be sure before buying a car, that the monthly installment is something that you can stomach. It'd be nice of course to keep your non-mortgage DSR below 15%, but come on, even I don't think that it's pragmatic. I would recommend that you try and keep the commitments to your car at roughly one-third your take home pay.
One more aspect that you have to take into account is the everyday running cost. This includes petrol, toll and parking. These costs, when added up, can eat up a quite a bit of your budget. So before going out and deciding on a car, maybe ask around, check with people around you how much they spend a month commuting.  It'll do you a lot of good later on. With all these costs added up, think about if it's more practical to live nearer to your workplace. The extra you pay to live nearer could be more worthwhile than paying to run the car every month.
The alternative
Another alternative to buying a car is to figure out if ride-sharing is an option. With the arrival of Uber, and Grab you can call a personal driver, and hitch a ride to your nearest public transport station, or even straight to work. This will however depend on whether your area is well covered by these ride-sharing drivers or not. Cost is also something you'd want to consider, so it's best to give it a go every now and then and see how much it costs for your commute.
I reckon if it's possible, give it a go, see if you can get to work on time and within the budget that you've allocated for your car. If it works, maybe it's worth commuting to work this way to the office. This way, you'd be able to save yourself from the trouble and costs of owning your own car.
---
All said and done, as a die-hard fan of public transport, I'd recommend traveling that way whenever possible. I also understand that this isn't practical for everyone. Finding a place to stay nearby public transport could be costly (some times costlier than owning transport), so some of you might not be able to do so. So when it comes to down to it, you may find yourself needing to buy a car.
What's important is to figure out what works within your budget (read here about why it's important to have a budget). Try and keep your monthly installments to at most a third of your take home pay, the lower, the better. Consider the cost of running your car (installment, fuel, petrol and parking) versus paying to live closer to work. If you must buy a car, be as practical as possible, at this stage in life, you want your car to take you to and from work, you don't need it to be flashy. You can save flashiness for later (because, some times you shouldn't deny yourself from indulging yourself occasionally).
Do you have any tips for would be car owners? Let us know! Hit us up in the comments section below!